James R. Alexander, M.D.
Board Certified Gastroenterologist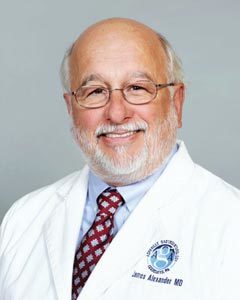 Dr. James Alexander joined Asheville Gastroenterology Associates in 1990, and specializes in general gastroenterology, endoscopic ultrasound, and laser endoscopy. In his free time he enjoys fishing, playing guitar, and reading.
Associations & Membership
---
Dr. Alexander is a member of Digestive Health Partners Association, Buncombe County Medical Society, the North Carolina Medical Society, the American Medical Association, and the American Gastroenterological Association. He was also a member of the Alpha Omega Alpha Honor Society and the Phi Beta Kappa Honor Society.

Education & Fellowship
---
With undergraduate training at the University of Tennessee, Knoxville, Dr. Alexander obtained his medical degree at the University of Tennessee at Memphis. He also completed his internal medicine residency and chief residency in medicine at the University of Tennessee at Memphis. He completed a gastroenterology fellowship and faculty position at the University of Utah.