Andrew C. Dukowicz, M.D.
Board Certified Gastroenterologist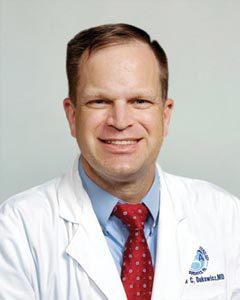 At Asheville Gastroenterology Associates, Dr. Dukowicz practices general gastroenterology, with a focus in esophageal disorders. His special interests include gastroesophageal reflux disease (GERD), eosinophilic esophagitis, esophageal motility disorders (including interpretation of esophageal manometry and esophageal pH/impedance testing), and swallowing disorders.
Associations & Membership
---
Dr. Dukowicz is a member of several professional organizations, including the American College of Gastroenterology, the American Gastroenterological Association, the American Society for Gastrointestinal Endoscopy, the North Carolina Medical Society, and the Buncombe County Medical Society.

Education & Fellowship
---
He is a graduate of Middlebury College in Middlebury, Vermont, and received his medical degree from the University of New Mexico School of Medicine. He completed his internal medicine residency at Beth-Israel Deaconess Medical Center in Boston. He completed his fellowship in gastroenterology at Dartmouth-Hitchcock Medical Center in Lebanon, New Hampshire.