Tom L. Whitlock, M.D. MPH
Board Certified Gastroenterologist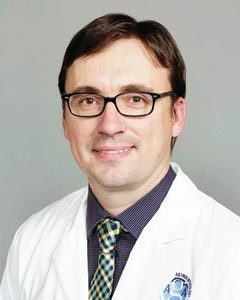 In his spare time, Dr. Whitlock prefers the great outdoors – biking, hiking, camping, canoeing, rafting, and traveling. As part of Digestive Health Partners in Asheville, his professional interests focus on general gastroenterology, capsule endoscopy, and quality improvement.
Currently a Clinical Assistant Professor for the UNC School of Medicine, Dr. Whitlock has also served in multiple administrative and educational capacities, including Course Director for UNC Chapel Hill Medical School's clinical GI rotation in Asheville, Medical Director of the Endoscopy Center, executive board representative and president for Asheville Gastroenterology and Digestive Health Partners.
Associations & Membership
---
He is a current or past member of several professional organizations, including the American Gastroenterological Association, American College of Gastroenterology, American Society for Gastrointestinal Endoscopy, North Carolina Medical Society and the Buncombe County Medical Society.

Education & Fellowship
---
Dr. Whitlock obtained his undergraduate degree at Brown University, followed by his medical degree at the University of North Carolina at Chapel Hill. He then completed his internship and residency in internal medicine at the University of Chicago Hospital. He furthered his education with a Masters of Public Health at Harvard School of Public Health and completed his fellowship in gastroenterology at Brigham and Women's Hospital/Harvard Medical School in Boston, Massachusetts.